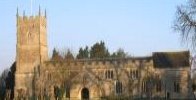 St. Nicholas, Ashchurch
Easy Fund Raising
When you buy on-line, you can raise money for St. Nicholas Church by going to the supplier's web site via the link on the left.
The names of suppliers on the left are just examples of the companies who support EasyFundRaising.
The first time you click this link you will need to create an account with your name, email address and a password. On subsequent visits you will need to log-in using the link at the top right of the EasyFundRaising page.
On the EasyFundRaising page, type the product or supplier name in the search box at the top, and in the page that appears you can see the amount each supplier matching your search will donate to the church.
Click on one of the suppliers, and select the 'Go Shopping' button to start your purchase.
The donation to the church will be transferred automatically